Vintage Rallies Page
Harold Harkin YouTube Channel Videos
Harold Harkin YouTube Channel Videos
Please View Video below for Harold Harkin YouTube Channel Videos and please subscribe to my channel to get notifications of new videos.
Feel Free to Share with family and friends.
Thanks for viewing my videos and visiting my websites.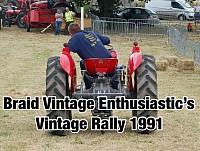 Braid Vintage Enthusiastic Vintage Rally 1991
Braid Vintage First Vintage Video
Here is link to the Braid Vintage Rally in 1991 at Braid Sheddings the video is on Facebook here is link to it.
Also has been updated this video to published on YouTube can be seen below.
UlsterVintage.com Presents Vintage Rallies Videos
Vintage Rallies Videos
Welcome to UlsterVintage.com Videos of vintage rallies.
Here are my Videos Playlist collections of All my Vintage Videos.
There are 40 Videos and the list is below, if you want particular video please press the menu on top right corner of the video below and you can choose what video you want.
Have changed the order the newest Videos are first so if you want older videos look down the list for the video you want.
Hope you enjoy them please feel free to share these videos with your family and friends.