Ulster Vintage F.A.Q.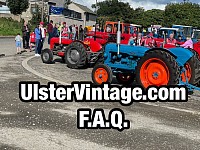 F.A.Q. Get your answers
F.A.Q. About
Here We try and answer your questions about vintage related questions.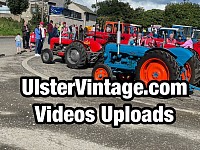 UlsterVintage.com Videos Uploads
Vintage Videos Uploads
If you like an video made of your vintage events that I have not covered.
I have an idea where if you have an camera our video camera our camcorder our smart phone you can take photos our videos and upload to my Apple iCloud Space where I need either your email address our mobile phone number where I send you an request to join my public album where you can upload your files.
I then can download them to make an video of your event.
Please email that you like do this.
Here is email link below.
Could you please tell me how I go about getting Drumbo Vintage Evening on the 2016 events list?
Dear Albert,
Traction Engine of Ulster brings out the event list you can ask this man who is a member of Traction Engine of Ulster His name is David Heatley and here is his website can be contacted through it
Thanks for contact.
Yours,
Ulster Vintage
Massey ferguson 135 tractor
Message
Trying to trace a 1969 Massey Ferguson 135 tractor once owned by my late father, recently saw it was currently taxed on the DVLA site, was traded into Thompson Reid tractors in Belfast in 1979, i appreciate the privacy issues, but if it was found and the current owner would like to contact me i'd be delighted. Tractor registration is BIJ2188 , at the time was fitted with a sekura cab.
How can I find out what Vintage Rallies coming up?
To find out what vintage rallies coming up please download the event's pdf file by
Clicking Here
 to view the future rallies.
How can I find out what roads my local vintage Rd Run Takes?
To View What Roads your local Vintage Rd run takes see this website.
How can I get my question on this F.A.Q. Page?
To get your vintage question on this F.A.Q. Page please
contact us here
and ask your question and also say if you want your question on this page?