UlsterVintage.com Video Intro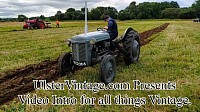 UlsterVintage.com Video Intro
UlsterVintage.com Video Intro
Here I introduce UlsterVintage.com Video Intro Blog of an video intro to see the types of videos I Harold Harkin makes for different events.
Just Press Play on Video Below to view my video intro.
Do tell your friends and family about my videos and feel free to join UlsterVintage click this link UlsterVintage Page on Facebook and also click this link to join UlsterVintage.com Group UlsterVintage.com Facebook Group just click links to view.