Ploughing Video of the Week & Ploughing Blog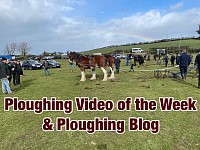 Ploughing Video of the Week & Ploughing Blog
Ploughing Video of the Week & Ploughing Blog
Ploughing Video of the Week & Ploughing Blog
Ploughing Matches Videos
Here I provide videos Playlist of Ploughing Matches by UlsterVintage.com.
Videos Playlist collections of All my Ploughing Matches Videos.
There are 8 Videos and the list is below, if you want particular video please please press the menu on top right corner of the video below and you can choose what video you want.
Video 1: Carrickfergus Ploughing Match 2010
Video 2: Garvagh Ploughing Match 2011
Video 3: Garvagh Ploughing Match Slideshow 2011
Video 4: Garvagh Clydesdale & Vintage Vehicle Club Ploughing Match 2011
Video 5: Mullahead Ploughing Match on Saturday 27th February 2016
Video 6: Mullahead Ploughing Match 2016 Sketch Video Saturday 27th February 2016
Video 7: Ballycastle Horse Ploughing Society Match 2022
Video 8: Ballycastle & District Vintage Club Ploughing Match 2022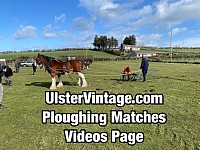 UlsterVintage.com Ploughing Matches Page
Friends Ploughing Videos